WELCOME TO
The Leisure Store Inc.
Investing in an addition for your home is an excellent way to improve its value and provide enjoyment. Spring will start earlier and fall will come later with your screen room, sunroom, porch or patio enclosure in Ottawa.
Contact Us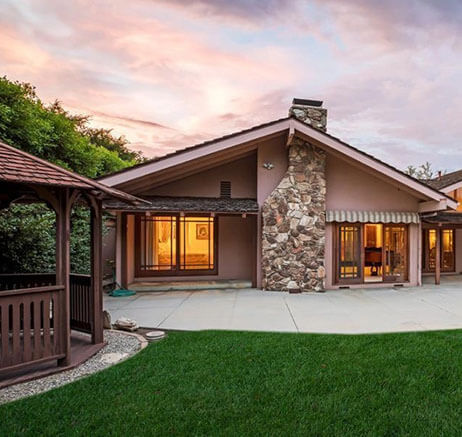 about us
The Company - The Leisure Store Inc.
The Leisure Store Inc. was established in February 2005 as a subsidiary of Leisure Product Distributors, which has been in the screen room and sunroom business since 1985.

The Leisure Store Inc. sells DO IT YOURSELF KITS for sunrooms and screen rooms with installation instructions in Ottawa Canada and outside of our local area.

As a result of our installation experience, we are able to answer clients' questions regarding installation procedures in a helpful manner and we provide that service to clients at no additional cost through our toll free line. Our website provides a virtual store for our potential clients to examine the specifications of our products.
OUR PRODUCTS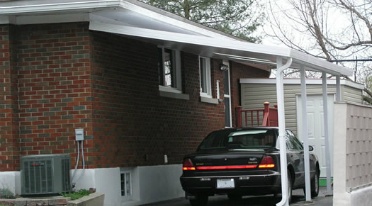 Carport Roof
Our Carport roofs are made from insulated aluminum. Protect your vehicle from the UV rays of the sun, the heat from direct sunlight, the rain and snow.
More Details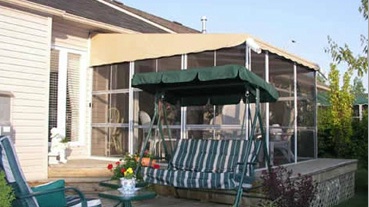 Screen Rooms
Penguin screen rooms are one of the tightest roofing systems in the industry helps take the bugs out of your life.
More Details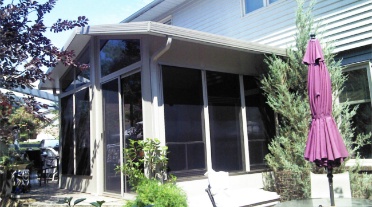 Sunroom Summary
A sunroom, patio enclosure or patio room will also enhance the value of your property and create a whole new look and beauty to your home.
More Details
Testimonials
See What Our Clients Are Saying
Happy New Year.
I just wanted to let you know how the sunroom is doing. It is turning into a 3 1/2 season room. As I hoped, we were able to set up for Christmas in there & even today in this deep freeze it is over 20 C in there right now. It was 5C this morning but the full sun quickly warms it up. Due to the site, the sun shines into the windows all day this time of year. I wouldn't recommend sleeping there overnight, but it is still a nice place to sit in the day & it could possibly be that way all winter on sunny days
Cheers,
Debra McPherson
Sydenham, ON
Dear Sye,
I just wanted you to know that our treasured year-round gazebo gallantly survived Hurricane Sandy's 75mph wind gusts in Beachwood, NJ, combined with the 1st nor'easter, AND the 2nd nor'easter with its winds and 4'' of very wet snow. I send a photo of the 2nd nor'easter's snowload. Beachwood suffered heavy damage, mainly from downed trees; we were without power for 7 days. All the doors and windows still work, and there are no leaks; we salute you!
Sye: I just wanted to let you know how pleased we are with the screen room we acquired from you, a year or so ago. I took it down last fall and re-erected it this spring without difficulty. We recently had a major windstorm blow across our lake and lost a lot of shoreline large trees in the area, but the screen room took it all without problem. I have attached a picture which I hope you receive. Thanks again for your great service.
To Whom it may Concern,
Recently we purchased a "sunroom" for our trailer situated in Kittawa Camping Park, Limoges, ON. Our knowledge of material is limited, but from our observation we are satisified that the building system installed on our trailer should last many years. We were pleased by the prompt services your representatives and the installer and we will strongly recommend them to our friends and neighbours. Thank you!
CA Satisfied Client
Mariette and Roger Major
October /06
Our sunroom is now complete and I just wanted to tell you how beautiful it is. It is exactly what we wanted and my husband completed the whole project himself. It will certainly add to our enjoyment of our deck and our beautiful country evenings. Thank you so much for your help and expertise. We really do appreciate it and certainly will be passing on your name to our friends and neighbors. We will have a toast to you in our new screenroom.
Sincerely,
John and Julie Hunt
Sydenham, ON